---
Factsheet
Developer:
Lumen Section
Based in Versailles, France
Publisher:
Plug In Digital
Release Date:
29 October 2018
Platforms:
Steam
Itch.io
Kartridge

Languages:
English
French
German
Polish
Spanish
Brazilian Portuguese
Japanese
Korean
Simplified Chinese
Traditional Chinese
Russian

Rating:
Currently unrated but suitable for all audiences
Engine:
Unity
Webpage:
lumensection.com/citrouille
Contact:
contact@lumensection.com
Lumen Section
Lumen Section is a french studio created in 2018 by the passion of 3 friends. It is the result of seven years of suffering and tenacity, and the start of many more. We draw our inspiration from old school games to create modern games focusing on fun mechanism and colorful universes.
Description
Citrouille is an arcade platformer featuring adorable little witches on a quest for candy. Despite the childish appearance, the gameplay is merciless. There is no jump, you have to rely on your magic ladders, spells and power ups to get through. Brave the danger, face your nemesis, cover the world with flowers and claim the treats you deserve!
History
After failing to complete an ambitious project, the Lumen Section team had to pull themselves together. In 2016 the development of Citrouille was started out of the desire to create a simple but complete project and to learn from it. The aim was to revamp some old arcade games from our childhood – especially from Amiga – and to offer a modernized tribute. The game was named Citrouille, French for Pumpkin, because it draws inspiration from Halloween imagery.
Game Modes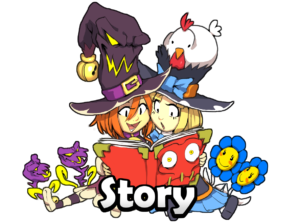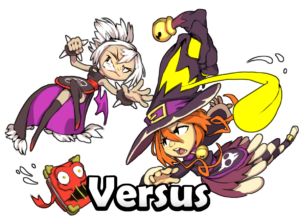 Story Mode:
Play as Praline or Vanille, the two main characters, through 50+ levels within 5+ unique worlds. If going through the quest on your own feels too hard, you can cooperate with a friend on a shared screen. But beware, for both players share the same life counter. Also, your spells and weapons make no difference between friends and foes.
Versus Mode:
Two to four players can face each others on a shared screen. Anis and Reglisse, the two antagonists, are joining the fray to claim their share. There are two different modes with 5 unique arenas for each:
Death match: the last one standing wins
Time limit: the player with the most flowers on screen when the time is over wins
Features
Four playable witches, with a unique spell each
Cover the ground with flowers to win and charge your power
No jump, summon magic ladders to make your way through
Open surprise gift boxes to find deadly weapons and crush your foes
Cooperate with a friend in story mode or settle the score in versus mode on shared screen
A 30 minute-long story mode, if you don't die, but you will…
Enchanting graphics (no artists were harmed or exploited during the making of this game)
Press Reviews
[EN] Game Ramble [EN] Indie Games + [EN] Indie Retro News [EN] Gaming On Linux [EN] Game Critics [FR] Geeks by Girls [FR] Couple of Gamer [CN] Gimm Gimm
---
---
---
---
Logos
The Lumen Section and Citrouille logos are available to use by persons who wish to illustrate articles or other content about our company and our games provided that you use the official, unmodified Unity logos downloaded from this site. You must not use our logos in such a manner as to imply that your content was authored or sponsored by Lumen Section.

---
Monetization Permission
Lumen Section allows for the contents of Citrouille to be published through video broadcasting services for any commercial or non-commercial purposes. Monetization of videos featuring Citrouille is allowed as well.
---
Credits
Nicolas Baillard
Programmer
Jean-Claude Petit
Game Designer
Romain Schlienger
Artist